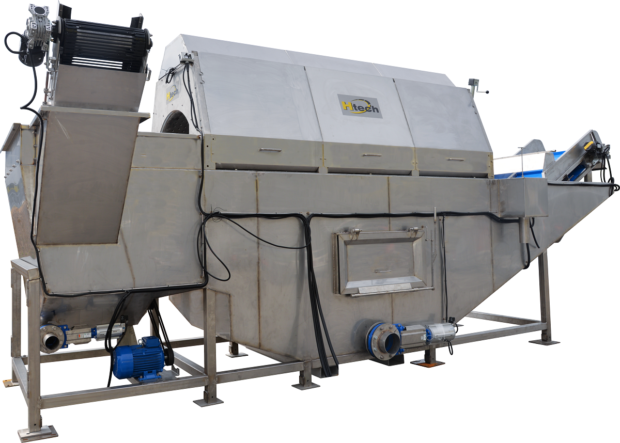 The Htech BW Barrel Washer is a cost-effective drum washing machine with an integrated destoner. It is designed for washing fresh produce such as potatoes, carrots, beets, celery, parsnip and other. As the barrel of the washer rotates in the water, vegetables gently rub against each other and the barrel cleaning the surface of the crop. It effectively and gently washes fresh vegetable while removing soil and small stones.
The drum is made of perforated stainless steel with a spiral rubber hose located inside the drum, which ensures rotating of the product and its flow towards the exit conveyor. The earth is removed from the product thanks to its rotation in the semi-filled drum. This machine is equipped with a door controlled by a servo motor which ensures the smooth flow of the product and with an auger conveyor running along the whole length of the machine.
Robust stainless-steel construction
Integrated de-stoner
High output capacity
The level of water in the washer drum can be adjusted to the required level. The side of the machine features a door for monitoring or cleaning of the machine.
The exit conveyor is equipped with a self-draining belt driven by an engine of a constant speed and with a final rinse.